Vols au "Point du Jour"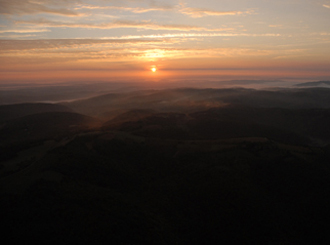 Flight duration:
At least 2 hours and 30 minutes
Description of the flight :
De fabuleuses images que les yeux et le cœur mémorisent pour toujours !
Toutes celles et ceux qui ont vécu une fois le magnétisme d'un point du jour dans les nuages rêvent de réitérer l'expérience d'un tel vol en montgolfière.
Nos pilotes privés assurent leur rôle de commandant de bord avec beaucoup de professionnalisme dans la préparation et l'exécution du vol. Ils cultivent pour les vols de nuit sur de longues distances une passion qu'ils partagent volontiers avec leurs passagers.
Le vol dure environ 2 heures 30.  Le pilote est assisté au sol par un équipier également chevronné qui assure la récupération des passagers à bord d'un véhicule 4X4 pour rejoindre la base.
Un petit déjeuner durant le vol dans la bonne humeur et digne d'authentiques aérostiers s'impose évidemment après tant de belles émotions !
Après le vol
Vous assisterez aux dégonflage, pliage et chargement de la montgolfière, puis vous regagnerez la base à bord d'un de nos véhicules tout terrain environ 1h30 après l'atterrissage.
Gift certificate :
Pour offrir ce vol en montgolfière, c'est très simple. Au moment de renseigner les informatons d'expédition :
Cliquez sur  "Cadeaux ?"
Précisez l'identité du ou des destinataires, et à quelle occasion (anniversaire, départ à la retraite, mariage, ...) vous lui offrez ce vol,
Indiquez l'adresse où envoyer le billet cadeau,
Rédigez quelques mots sympatiques pour accompagner le billet... et c'est terminé, nous nous occupons du reste!
Flight confirmation :
Les passagers sont invités à nous contacter pour s'informer des prévisions météorologiques et probabilités de vol :
Au 05 53 28 18 58, entre 14h00 et 17h00, l'avant-veille et la veille du jour prévu pour le vol.