Blimp solo flights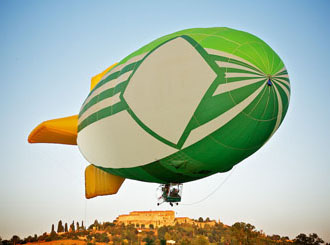 Flight type:
Private flights with pilot in an airship
Description of the flight :
Table of contents
Rediscover the thrill the first blimp pilots used to have for at least 60 memorable minutes!
Flying a blimp, free as a bird, above Dordogne, its hills and castles is pretty unique...
Hear those who, stuck on the ground, express both admiration and envy for what you're doing.
Your private pilot will, of course, make sure your epic journey ends in honor and glory,  safe and sound on the ground!
An experience to have and to share to feel like a true hero or heroine!
Upon landing
Upon landing, you'll participate in the deflation and pack-up of the blimp. It will take about an hour and a half.
It will be time then for you, the pilot and his crew to propose the balloonist toast.
Gift certificate :
It's easy to offer this blimp flight. When you enter your shipping information:
  Select "Gift"
  Specify the name of the recipient and the occasion it is for (birthday, retirement, wedding...)
  Enter the address the gift certificate will be sent to
  Write a nice message...and you're done, we'll take care of everything else!
Safety :
Our blimp meets the safety standards in force. We invite you to ckeck our certificates and licences of airworthiness.
Flight confirmation :
Passengers are advised to call us and ask about weather forecasts and flight probabilities two days but also one day before the flight is scheduled.
We can be reached at 05 53 28 18 58 between 2:00 and 5:00 PM.