Constantin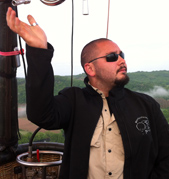 Hot air balloon and blimp flight.
Table of contents
Licenced pilot since 2011
Just like for his brother, Wassili, and for his sister, Anna, ballooning is in Constantin's blood.
Constantin trained for 3 seasons as a crewmember before earning his pilot's licence in 2011. Highly professional and vigilent just like Boris and Jean-luc, he'll take the passengers for a flight on board of a hot air balloon or a blimp of the family business.
Born ballooning
Even though Constantin was born in a balloon carriage, he's also a fervent rider like everybody else in the family!
He completed his first instructional flights under the control of Boris in Chateau-d'Oex, Switzerland, in Evora, Portugal and in Dobbiaco, Italy.
Because the ballooning world is so familiar to him, his passion will soon become a profession. Welcome to the nigrowskys' world!
Flying blimp
In 2008, Constantin competed with his dad, Boris, in his first airship worldcup in Saint-Petersbourg and then in 2010 in Dole.
Along with 15 other crews from around the world, the Nigrowskys were challenged to use their strategic and precision skills to steer their blimp.
Once they all take off, the pilots must follow a specific air route so they can drop their markers on the targets. Working with the laws of aerology and energy to propel their blimp, the crews must follow a set of strict rules and finally cross the finish line.
Constantin's pilot's licence