Dominique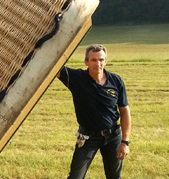 Hot air balloon and blimp flights
Crew member since 2010
Dominique Charbonnier has been crewing for the pilots of  Montgolfieres du Perigord for a while now. With his sporty and proactive personnality, Dominique is the best assistant ever in the operation of a blimp flight and landing ( the blimp is larger and heavier than a hot air balloon)!
Dominique is well known among the team for his joyful personnality.
A diver and a rider too...
Dominique is a rider like everybody else on the Montgolfieres du Perigord's crew. He has also been diving all around the world.
Le Lys de Castelnaud
Upon landing, the experience can continue with a stop at Le Lys de Castelnaud. Dominique and his wife, Nathalie, will welcome the passengers in their bed and breakfast or cottage in a warm and medieval atmosphere!
Relaxation and change of scenery garanteed!