Offer a gift of flight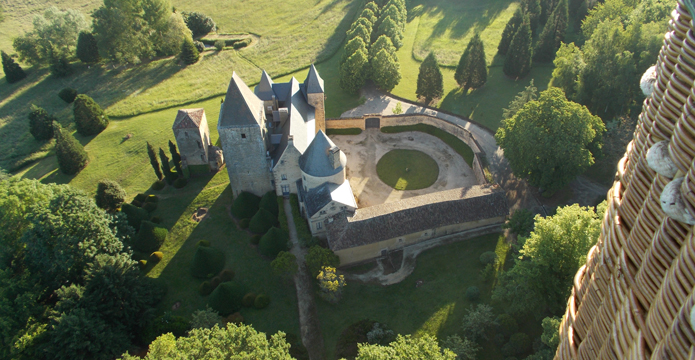 For a birthday or a Christmas gift, for a big surprise...
It's not easy to find a special gift that will surely be appreciated...! Have you thought about a hot air balloon flight gift certificate?
Pretty simple:
 Go check Our packages and pricing and choose your hot air balloon or blimp flight 
 Choose the lucky recipient
 Proceed to checkout
 We'll send your gift voucher to the recipient
 unless, so proud of your gift idea, you'd rather take care of it yourself ?
To inject a bit of magic into a kid's birthday
It's a dream come true for a child to rise above the ordinary aboard  a balloon with close friends! Sprinkle a little bit of magic and let the phantasmagoric journey begin...Boris( your pilot) and Martine(crew) will be delighted to enchant and take the kids for a ride! This time only..., parents will get to accompany the kids!!!
Yep, it is mandatory for kids under 12 to be accompanied by a designated adult!
To retire on a high note
What a great opportunity to take a deep breath and reach for the sky! So what better way than a hot air balloon flight to discover and explore all that our beautiful Perigord has to offer...
Wether you're a young quiet retiree or an adventurous one, you'll find among our packages and pricing  the flight that will give you wings to enjoy all the freedom and time you have now.
For an unusual wedding proposals
Surprise her or him for that very special occasion in a way that both of you will remember forever.
You might feel like a private flight is a perfect fit to represent your relationship, unless the first light of day flight feels more appropriate to express your desire to spend a lifetime together.
In any case, we'll be happy to help you organize this highlight of your life together.
For a bachelor party
Such an event needs a little bit of staging...that's when the hot air balloon or blimp basket comes in very handy!
You'll most certainly be inspired when scrolling through our packages and pricing  to find the best amusing way to celebrate with your friends. Great memories garanteed!
For a wedding gift
Make a hot air balloon ride part of your honeymoon...what a great start in life for two lovebirds.
Either go for the private flight or the first light of day flight to gaze at daybreak at the sun rising and enlightening your future together...Our pilots  and balloons are available to all lovers of the planet looking for freedom and simple pleasures to share.
For the birth of a child
A balloon ride may be a great gift to offer your wife or girlfriend to celebrate the birth of your child! An awesome souvenir to add to the family album...wouldn't it? Leisurely floating over the hills, castles and rivers is a great opportunity to bring back in a young mother the sense of gracefulness...
A Duo Altissimo flight or a Private flight would be the perfect gift from grandparents to give young couples the time and space they need to fully enjoy their happiness.
As a thank you gift
Express your gratitude by offering the person you're thankful for a balloon ride gift certificate! Scroll through our packages and pricing to find what you're looking for.
Around golfing
In partnership with the Pays de Sarlat Resort and Country Club, the gift boxes Golf in Perigord offer a set of " Perigord style" services and tourist activities around golfing.
Among the available alternatives, an hour balloon flight for two !
Just for the pleasure of making a gift
No need to always find a good excuse to spoil our loved ones...Make a gift for the good and simple reason you feel like it