All'tissimo flights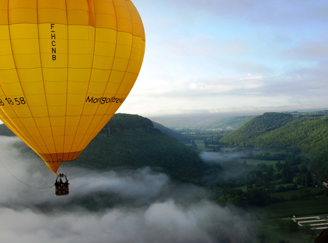 Multiple person discount !
Flight type:
Vol privé avec prestations gastronomiques
Description of the flight :
Go up, up and away with your loved ones and forget about time. You can rely upon our promise to deliver a unique and exquisite experience.
Created from the delightful symbiosis of air lightness, scenic beauty and feeling of freedom, this flight is for those who want to take a big bite out of life.
Our All'tissimo private group flights combine a sense of class and wildness, simplicity and quietness, excitement and sophistication.
Attentive yet discreet, your private pilot will find the right time to serve you scrumptious foie gras toasts and  Champagne.
Your private flight will last, at least, 60 minutes and will leave you and your soulmates with nothing but unforgettable memories.
We suggest you also check our Duo Altissimo flights that couples appreciate for a lovely one-on-one moment.
Gift certificate :
It's very easy to offer this balloon gift certificate. When you enter your shipping information:
  Select "Gift"
  Specify the name of the recipient(s), the occasion it is for (birthday, retirement, wedding...)
  Enter the address the gift certificate will be sent to
  Write a nice message...and you're done, we'll take care of everything else!
Safety :
Our hot air balloons and blimps meet the safety standards in force. We invite you to go check our certificates and licences of airworthiness.
Flight confirmation :
From July 14th to August 20th
Hot-air balloon flights sell out fast during this time of the year.
So please call 05 53 28 18 58 to check availability before booking online.
In any case
Please call us at 05 53 28 18 58 for pre-flight information (weather forecast and flight probability) between 2pm and 5pm two days and then one day before the actual flight.