First light of day flights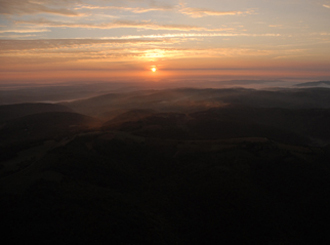 Flight duration:
At least 2 hours and 30 minutes
Description of the flight :
Table of contents
A flight that engraves forever memories of fabulous images!
Those who have already been captivated by the charms of the sunrise from up above dream of experiencing again such a balloon flight.
Our private pilots fulfil their role as captain in planing and performing a flight with a high degree of professionalism. They develop their passion for long distance night flights and willingly share it with their passengers.
The flight lasts for at least 2 hours and a half. The pilot is assisted by a highly qualified ground crew in driving the passengers back to the office.
 A well deserved breakfast is then served in a joyous and relaxed atmosphere like in the good old days!
Upon landing
You'll participate in the deflation and pack-up of the balloon, then we'll take you back to the office in one of our four-wheel-drive vehicules. The whole process will take about an hour and a half upon landing.
It will be time then for you to share the breakfast with your pilot and his crew!
Gift certificate :
It's easy to offer this balloon gift certificate. When you enter your shiping information:
  Select "Gift"
  Specify the name of the recipient(s), the occasion it is for (birthday, retirement, wedding...)
  Enter the address the gift certificate will be sent to
  Write a nice message...and you're done, we'll take care of everything else!
Safety :
Our hot air balloons and blimps meet the safety standards in force. we invite you to go check our certificates and licences of airworthiness.
Flight confirmation :
Passengers are advised to call us and ask about weather forecasts and flight probabilities two days but also one day before the flight is scheduled.
We can be reached at 05 53 28 18 58 between 2:00 and 5:00 PM