The Wow factor!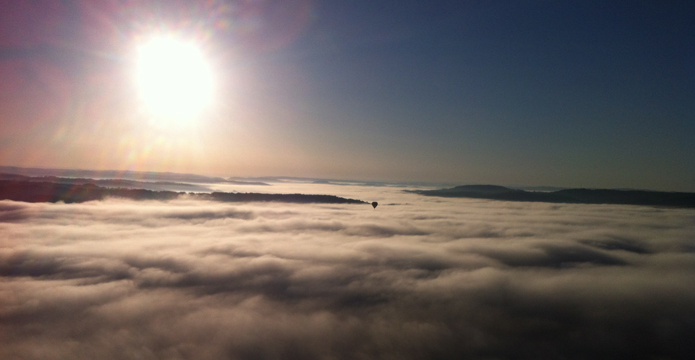 A two and a half hour balloon ride
Because time of sunrise and flying conditions vary on a daily basis, the schedule of a sunrise flight is flexible.
Only a highly experienced pilot can take on such a flight. Boris Nigrowsky, who's specially qualified in the area, won't leave anything to chance. It will allow guests to enjoy this moment of pure ecstasy with peace of mind!
A long distance flight for 3 or 4 passengers
Boris takes either 3 or 4 passengers for a long distance First light of day flight.
The distance the balloon travels depends on the wind but the flight time always remains the same: two and a half hours of unforgettable pure joy!
The magic of a sunrise flight
Each and every sunrise flight reveals particular colors, scenes and emotions and leaves no one indifferent.The passengers unanimously agree on this unique experience they want to renew.
An amazing gift to celebrate an important event: Yes indeed! That's what you'll hear from the passengers who fall under the charm of a sunrise flight and want to give the chance to a loved one to live such a magical moment...Pristine nature as a reminder our planet is wonderful and deserves to be taking care of!