Martine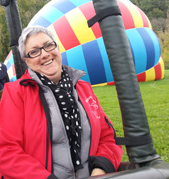 Hot air balloon and blimp flights
Ground crew member
Martine is a crucial crewmember. She's involved in many tasks:
in greeting the passengers and taking them to the launch site,
in helping pampering and inflating the balloons,
in keeping in contact with the pilot via radio, once in flight,
in guiding the pilots at landing and bringing the passengers back to the office...
The crewmember is crucial to the balloon's pilot
Of course, Martine is not new to the job!...She's been helping out her husband, Boris, for 22 years. She's the one who, once the balloon is aloft, heads back to the truck and follows or preceds it on local roads:
to call in wind conditions,
to anticipate the landscape if poor visibility,
to be aware of any bad landing conditions.
A passion that runs in the family
Boris and Martine are sharing their passion with Constantin, their son, who is a pilot for the family run business.