"Poids Plume" 7 à 11 ans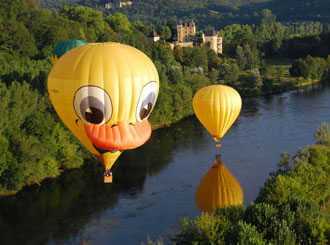 Flight type:
Scenic flights to share with up to 8 passengers
Description of the flight :
Table of contents
Ces billets peuvent être utilisés pour tous les vols de type " Vols touristiques " à bord de nos montgolfières pour les enfants âgés de 7 à moins de 12 ans.
Leur prix est "Poids Plume" pour que les grandes familles puissent, elles aussi, s'offrir une escapade en vol libre sur de la Dordogne, ses méandres surprenantes et ses châteaux hors du commun.
60 minutes de féérie et de liberté à partager entre parents et enfants, grands parents et petits enfants, frères et sœurs, copains et copines... Bref, entre toutes celles et ceux qui aiment se faire plaisir !
Ces billets nécessitent que les enfants passagers soient accompagnés d'au-moins une personne adulte et habilitée.
Billet pour les passagers adultes accompagnateurs :
Horaires des vols toute l'année
Nous vous invitons à consulter, pour chaque mois, le tableau des horaires de vol le matin et le soir !
Gift certificate :
Pour offrir un vol en montgolfière et émerveiller un enfant âgé de 7 à 11 ans, c'est très simple. Au moment de renseigner les informatons d'expédition du billet :
Cliquez sur  "Cadeaux ?"
Précisez le prénom et le nom de l'enfant à qui vous offrez le vol et pour quelle occasion (anniversaire, récompense scolaire, ...),
Indiquez l'adresse de ses parents,
Rédigez quelques mots sympatiques pour accompagner le billet, ... et c'est terminé, nous nous occupons du reste!
Flight confirmation :
Les passagers accompagnateurs des enfants sont invités à nous contacter pour s'informer des prévisions météorologiques et probabilités de vol :
Au 05 53 28 18 58, entre 14h00 et 17h00, l'avant-veille et la veille du jour prévu pour le vol.