Vols "Périgord 360°"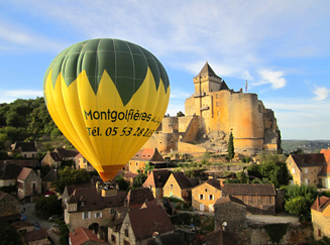 Multiple person discount !
Flight type:
Scenic flights to share with up to 8 passengers
Description of the flight :
Table of contents
Avec un de nos 3 pilotes et à bord de nos montgolfières, découvrez ce qu'on ne voit qu'en flottant doucement au gré des vents légers au dessus des rivières, des châteaux et des collines du Périgord noir.
Nos vols "Périgord 360°" offrent une occasion rare mais très abordable, d'apprécier la douceur de vivre des aérostiers lorsqu'ils survolaient notre belle Dordogne !
Dans le respect des usages de l'aérostation, le "toast de l'aérostier" sera porté à l'atterrissage par les passagers et leur pilote. Un rite historique pour rester dans l'authenticité d'un vol libre en ballon à air chaud… Comme au bon vieux temps !
À vivre et à offrir pour le pur plaisir de se sentir léger et libre !
Après le vol
Vous assisterez aux dégonflage, pliage et chargement de la montgolfière, puis vous regagnerez la base à bord d'un de nos véhicules tout terrain environ 1h30 après l'atterrissage.
Ce sera le moment de partager le pot de l'aérostier entre passagers avec votre pilote et son équipier !
Horaires des vols toute l'année
Nous vous invitons à consulter, pour chaque mois, le tableau des horaires de vol le matin et le soir !
For children from 7 to 11 :
Si vous souhaitez voler avec vos enfants âgés de 7 à 11 ans, le billet Poids Plume à un prix "poids plume"... est fait pour eux !
Gift certificate :
Pour offrir ce vol en montgolfière, c'est très simple. Au moment de renseigner les informatons d'expédition :
Cliquez sur  "Cadeaux ?"
Précisez l'identité du ou des destinataires, et à quelle occasion (anniversaire, départ à la retraite, mariage, ...) vous lui offrez ce vol,
Indiquez l'adresse où envoyer le billet cadeau,
Rédigez quelques mots sympatiques pour accompagner le billet... et c'est terminé, nous nous occupons du reste!
Flight confirmation :
Les passagers sont invités à nous contacter pour s'informer des prévisions météorologiques et probabilités de vol :
Au 05 53 28 18 58, entre 14h00 et 17h00, l'avant-veille et la veille du jour prévu pour le vol.