Vols d'initiation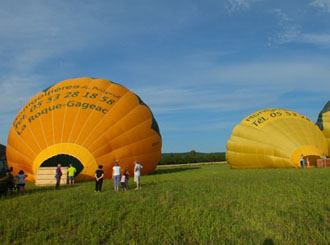 Description of the flight :
Vous avez toujours rêvé de piloter une montgolfière ?
Passer à l'action et laissez nos pilotes instructeurs vous guider pour que vous aussi, vous puissiez voler librement au grè de l'air frais et léger du Périgord !
Durant 1 heure de vol et de sensations fortes, vous apprendrez à manipuler un de nos ballons sous l'œil vigilant et bienveillant de Boris qui est habilité à former les pilotes de ballons libres à air chaud.
Après le vol
Vous participerez aux dégonflage, pliage et chargement de la montgolfière, puis vous regagnerez la base à bord d'un de nos véhicules tout terrain environ 1h30 après l'atterrissage.
Ce sera le moment de partager le pot de l'aérostier avec votre pilote et son équipier.
Gift certificate :
Pour offrir ce vol en montgolfière, c'est très simple. Au moment de renseigner les informatons d'expédition :
Cliquez sur  "Cadeaux ?"
Précisez l'identité du destinataire, et à quelle occasion (anniversaire, départ à la retraite, mariage, ...) vous lui offrez ce vol,
Indiquez l'adresse où envoyer le billet cadeau,
Rédigez quelques mots sympatiques pour accompagner le billet... et c'est terminé, nous nous occupons du reste!
Flight confirmation :
Les passagers sont invités à nous contacter pour s'informer des prévisions météorologiques et probabilités de vol :
Au 05 53 28 18 58, entre 14h00 et 17h00, l'avant-veille et la veille du jour prévu pour le vol.