Dordogne 360 Flights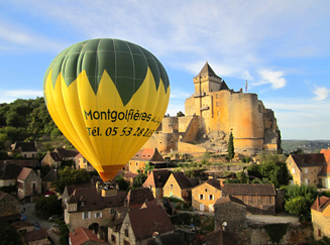 Multiple person discount !
Flight type:
Scenic flights to share with up to 8 passengers
Description of the flight :
One of our three pilots will take you on a balloon ride. You'll gently drift away with the light breeze above rivers, castles and hills of the Black Perigord.
Our Dordogne 360 flights offer a unique but affordable opportunity to experience the good life the balloonists used to have while flying over our beautiful Dordogne!
As part of the ballooning tradition, the passengers and their pilot will propose the "balloonist toast" upon landing : An historical rite to stay true to what a hot air balloon ride used to be...like in the good old days!
An experience to have and to offer just for the sake of feeling light and free!
Upon landing
You'll participate in the deflation and pack-up of the balloon, then we'll take you back to the office in one of our four-wheel-drive vehicules. The whole process will take about  one hour and a half upon landing.
It will be time then for the passengers, their pilot and the crew to propose the"balloonist toast'!
For children from 7 to 11 :
If you wish to take your kids age 7 to 11 for a balloon ride , consider the Chickadee flight  at a "featherweight" cost ... a perfect fit for them!
Gift certificate :
it's very easy to offer a balloon gift certificate. When you enter your shipping information:
 Select "Gift"
 Specify the name of the recipient(s), the occasion it is for (wedding anniversary, retirement, wedding...)
 Enter the address the gift certificate will be sent to
 Write a nice message...and you're done, we'll take care of everything else!
Safety :
Our hot air balloons and blimps meet the safety standards in force. We invite you to go check our certificates and licences of airworthiness.
Flight confirmation :
Passengers are advised to call us and ask about weather forecasts and flight probabilities two days but also one day before the flight is scheduled
 You can reach us at 05 53 28 18 58 between 2:00 and 5:00 PM