"Chickadee flight" age 7 to 11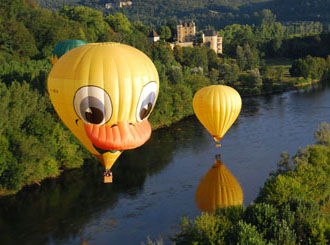 Flight type:
Scenic flights to share with up to 8 passengers
Description of the flight :
Table of contents
These tickets can be purchased for any of our balloon "scenic flights". They're for kids age 7 to 12.
For a "featherweight" cost large families can now afford to escape on a hot air balloon and fly over the meandering Dordogne and its surprising castles.
Share between parents and children, grandparents and grandchildren, siblings, boyfriends and girlfriends...anyways, between whoever wants to enjoy themselves, 60 minutes of magic and freedom
Kids flying with this ticket must be accompanied by at least one responsible adult.
Tickets for accompanying adults:
Gift certificate :
To surprise and amaze kids age 7 to 12 with a hot air balloon flight, all you need to do when you enter your shipping information is:
  Select "Gift"
  Specify the name of the recipient and the occasion it is for (birthday, retirement, wedding...)
  Enter the address the gift certificate will be sent to
  Write a nice message...and you're done, we'll take care of everything else!
Safety :
Our blimp meets the safety standards in force. We invite you to ckeck our certificates and licences of airworthiness.
Flight confirmation :
The passengers accompanying the children are advised to call us and ask about weather forecasts and flight probabilities two days but also one day before the flight is scheduled.
We can be reached at 05 53 28 18 58 between 2:00 and 5:00 PM